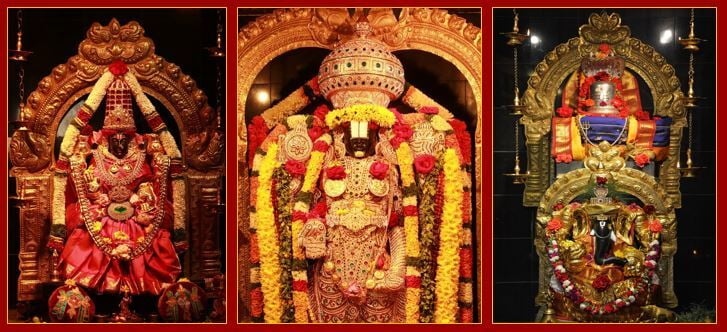 New Year 2023 Celebrations at SVK Temple









" Wish you all a ve

ry Happy, Healthy and Prosperous New Year - 2023".







To celebrate the dawn of the new year, we will keep the temple open all day and perform hourly Archanas at the top of the hour from 8:00 AM to 7:00 PM.




By the grace of Lord Sri Venkateshwara and with the blessings of His Holiness Sri Sri Sugunendra Theertha Swamiji, we will be performing special poojas at SVK Temple welcoming the New Year 2023. Please find below the Pooja and Sponsorship details.

Also, we are pleased to announce the availability of 2023 Calendar.




Sri Venkateshwara Suprabhatha - 06:00 AM

Achchidra Ashwamedha Parayanam - 07:00 AM

Sri Suktha Homa - 08:00 AM

SUVARNA KIREETAM Samarpanam - 09:00 AM

Maha Mangala Aarathi - 09:30 AM

Maha Prasada - 12:00 Noon

Special Maha Mangala Aarathi - 07:30 PM




 

Sarva Seva

 

$ 251

 

Pushpa (Flowers) Alankara Seva

 

$ 108

Annadana Seva

$ 108

Dhanur Maasa Pooja

$ 51

Archana

$ 25





Shashwata Samvatsara Seva 2023
Our Sri Venkata Krishna Kshetra (SVK) Temple, part of the Sujnana Religious & Charitable Foundation (SRCF) has been meeting the religious and cultural needs of the Hindu Community in the Phoenix Metro area since 2000. We are the temple of choice for many and have maintained our tradition of Annadana (free Maha Prasadam) from the beginning.

New year 2023 is coming upon us soon in the next few days. We request devotees to avail of annual seva opportunities. Devotee donations continue to be one of the main sources of income for the Temple. We do generate funds from Archanas and Homas, but this does not meet the expenses of such a large Temple for its day-to-day operations. We are sensitive to the current situation and do understand individual situations are different. We request your generous contributions towards "Shashwata Samvatsara Seva" to enable Temple to continue to offer Sevas. In turn you will have the benefit of a Seva offered in your name during the New Year.

** Sankalpa Form - Click Here
** Sponsorship Link - Click Here
** To make a General Donation - Click Here

or please send checks payable to "SRCF", Address - 615 S Beck Ave, Tempe AZ - 85281

We are a 501 (C) (3) organization and your donations are tax deductible. Please keep SVK Temple in your mind as you finalize your year-end taxes. SVK Temple is here for all your needs. Please contact us if you have any questions.
Kiran Kumar Rao
Chief Priest - SVK Temple
Ph: 480 274 3039

Dhanur Maasa Pooja
DECEMBER 15, 2022 TO JANUARY 14, 2023

Dear Devotees,
December 15th to January 14th of every calendar year is known as Dhanur Maasam. This is a time when the days are short and the chill in the air makes you crave for something hot, spicy and yet nutritious. This craving is not only limited to human beings but also extends to our divine deities. Therefore it is at this time that we make Pongal also known as Huggi.
Lord Sri Krishna said, I am here to bless all my devotees at sunrise so that you may all get the blessings of Arunodaya (Sunrise).


Praying to Lord at sunrise is an unique feature of this month. With blessings of His Holiness 1008 Sri Sri Sugunendra Theertha Swamiji, Udupi Sri Puthige Matha, Sri Venkata Krishna Kshetra Temple will be conducting Dhanur Maasa poojas for the benefit of all devotees. Every morning we will be performing special pooja before sunrise followed by Prasadam.
The Sun moves from Dhanur Rashi to Makara Rashi on January 14th and this month is very auspicious as it culminates in the festival of Makara Sankranti. This holy day marks the commencement of the Sun's northern course in the Heavens, known as Uttarayana patha. This turn in Sun's course takes place at the point of time when it enters the sign of Makara or Capricorn. Interestingly, this is the only festival in Hindu calendar that follows a solar calendar and is celebrated on the 14th of January every year (all other Hindu festivals are computed using the lunar calendar).
Devotees are invited to sponsor the Pooja in their/family's name. The sponsorship is as follows:

* All 30 Days $501.00
* Single Day $ 51.00

Please Click Here to sponsor online.
Please Click Here to fill out the Sankalpa sheet.
Devotees who wish to send checks, please make checks payable to SRCF


Mailing Address:

Sri Venkata Krishna Kshetra
615 S Beck Ave
Tempe, AZ 85281

email: svktempleaz@gmail.com

Devotees are requested to participate in this Pooja and obtain the blessings of the Lord.